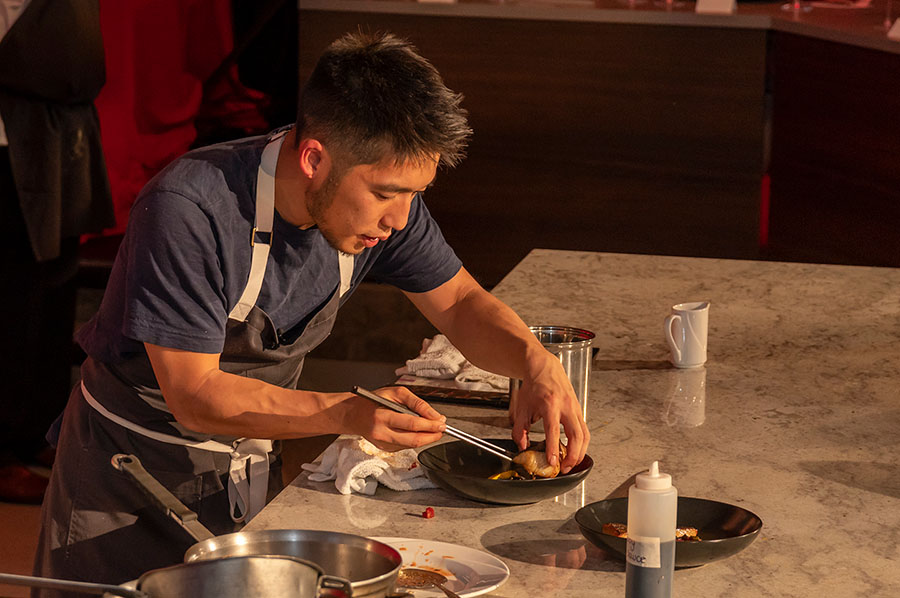 Chef Shota Nakajima's good-natured chuckle and cheerful demeanor earned him the title of Fan Favorite on Bravo TV's Top Chef, and his exquisite Japanese cuisine got him to the final of the hit show.
His personality and culinary expertise also won over the crowd at the Celebrity Chef event to benefit culinary scholarships. He delighted diners at the exclusive dinner while viewers followed the event live online as they enjoyed takeout versions of his delicious dishes. RTC students had the opportunity to cook with and learn from Nakajima and his Culinary Director Nick Springer.
"This is an important event for the culinary industry," Nakajima said.
The event – the RTC Foundation's first in-person fund-raiser since January 2020 – raised $65,000 for culinary scholarships. Culinary students, along with RTC instructors Chefs Tony Parker and David Wynne, helped with the cooking, and Sommelier Bruce Sturgeon paired the wines.
Nakajima answered questions about his road to success, his time on television, and his hopes for future chefs, as he demonstrated his black cod dish with his signature three-ingredient puree.
"I made three purees in a row, and every time, (Top Chef host) Padma (Lakshmi) said, 'This is amazing!" he joked.
His guests agreed, eagerly accepting the extra puree he dished onto their plates as he answered every question thrown at him.
Yes, he's really friends with his fellow contestants on Top Chef.
"Right after cooking, getting to hang out with people, inspired me," he said.
His favorite bite during the competition? Fellow finalist Dawn Burrell's sweet potatoes.
What does a top chef eat?
"Sometimes I'll grab pizza and Lunchables and yogurt," he laughed. "Rice and pickles…that's a better answer."
Chef Shota didn't take a traditional route to becoming a chef. He dropped out of high school and started working for minimum wage at a Japanese restaurant in Seattle.
"School was hard for me, but working in the kitchen, giving everything I had, showing up on time, made me feel successful," he said.
He returned to his native Japan at age 18 to learn the art of Japanese cuisine, working with acclaimed and Michelin Star-rated Chef Yasuhiko Sakamoto. He achieved his goal of opening his first restaurant, Adana, by age 25. He opened his second, Taku, a few days before the COVID-19 shutdown. Closing Adana, being alone during quarantine, and then reaching fame on Top Chef, all gave him time to re-evaluate what he wanted to do. Taku reopened, and is a thriving bar, specializing in Japanese fried chicken. But what's most important to him is nurturing his staff and aspiring chefs.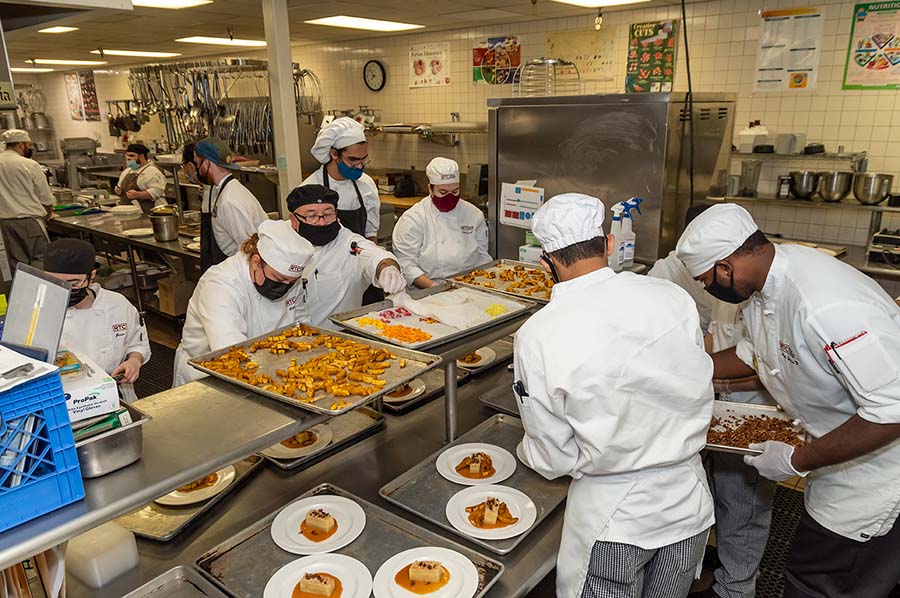 "My inspiration is making sure people become the best versions of themselves," he said. "I would rather people aren't afraid to make mistakes, because that means I'm a good boss. I want to teach those who work for me to have self-value, because that wasn't taught to me early."
He told culinary students to seek those who share those values:
"Surround yourself with good peers, good vibe people who motivate you and help you push your dreams."

The Celebrity Chef Event was supported by: Presenting Sponsor Viet-Wah; Media Sponsor 425 Magazine; Premier Sponsors Hobart Services and Team Reba, and Platinum Sponsor The Hyatt Regency at Lake Washington.