Major Appliance & Refrigeration Technology
Appliances are all around us, taking on the heavy work that makes modern life possible. Fixing and maintaining these machines requires knowledge of the science behind them, as well as solid, hands-on experience. This unique program does both. Students first learn the electrical, mechanical, and refrigeration theory of appliances. They then practice diagnostic and repair techniques on the kinds of machines they will encounter in the field. Students are introduced to all aspects of the industry including parts procurement, work order/parts development, and industrial communications. This program is approved as an electrical specialty training school for Appliance Repair (07D) by the Washington State Department of Labor and Industries, Electrical Section.
---
Enrollment Point: Fall, Spring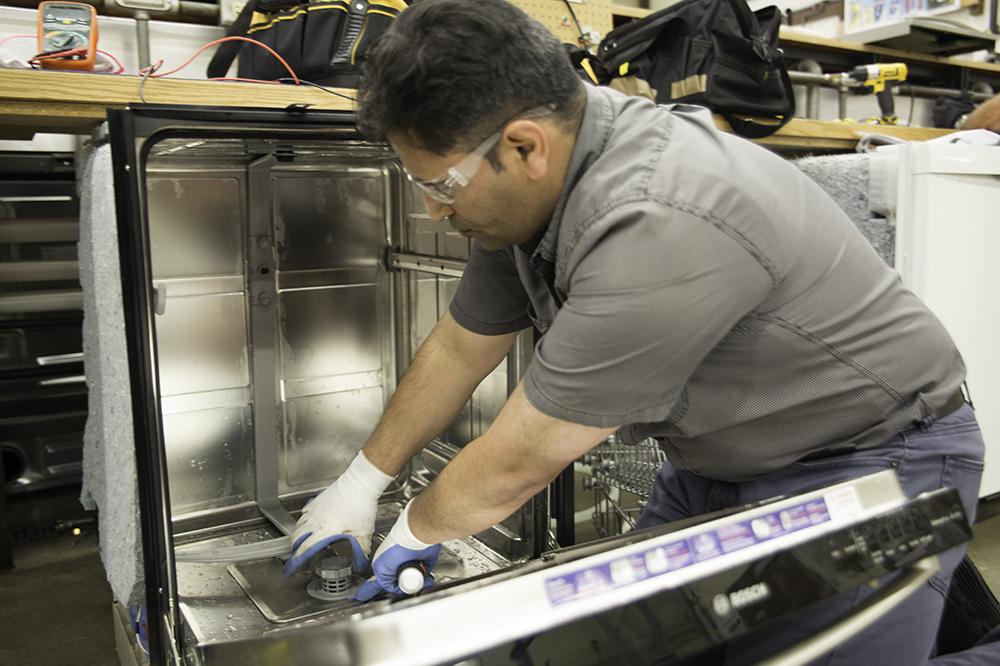 ---
Certificate of Completion:
Associate of Applied Science:
Bachelor of Applied Science:
---
All program lengths are estimates and are not guarantees. For the most current program information, check with an adviser by calling (425) 235-5840.
---
---
These amounts are based on median entry level wages, they are estimates and are not guarantees. For more information, visit careerinfo.net
---
At Renton Technical College, tuition is affordable and competitive.
Federal aid is available for most students to help pay for school. Fill out your FAFSA now to get started.
The RTC Foundation offers scholarships to help pay the costs of attending school.
---
All costs are estimates and are not guarantees. For the most current program information, check with an adviser by calling (425) 235-5840.
---
---
Hours may vary based on specific program requirements. For the most current program information, check with an adviser by calling (425) 235-5840.
---
Entry Requirements
Admission Requirements
Minimum age: 18 years.
ACCUPLACER score in reading & writing of 41 or higher or completion of ENGL 090 with a grade of 2.0 or higher
ACCUPLACER score in math of 60 or completion of MATH 075 with a grade of 2.0 or higher
Physical strength and physical ability to perform job functions as described below:

Arm-Hand Steadiness - The ability to keep you hand and arm steady while moving your arm or while holding your arm and hand in one position.
Finger Dexterity - The ability to make precisely coordinated movements of the fingers of one or both hands to grasp, manipulate, or assemble very small objects.
Manual Dexterity - The ability to quickly move your hand, your hand together with your arm, or your two hands to grasp, manipulate, or assemble objects.
Near Vision - The ability to see details at close range (within a few feet of the observer).
Control Precision - The ability to quickly and repeatedly adjust in controls of a machine or a vehicle to exact positions.
Extent Flexibility - The ability to bend, stretch, twist, or reach with your body, arms, and/or legs.
Multi-limb Coordination - The ability to coordinate two or more limbs (for example, two arms, two legs, or one leg and one arm) while sitting, standing, or lying down. It does not involve performing the activities while the whole body is in motion.
Trunk Strength - The ability to use your abdominal and lower back muscles to support part of the body repeatedly or continuously over time without 'giving out' or fatiguing.
Lifting - The ability to lift 50 lbs.
Admission Recommendations
Mechanical aptitude which is defined as follows:

Problem Sensitivity - The ability to tell when something is wrong or is likely to go wrong. It does not involve solving the problem, only recognizing there is a problem.
Deductive Reasoning - The ability to apply general rules to specific problems to produce answers that make sense.
Inductive Reasoning - The ability to combine pieces of information to form general rules or conclusions (includes finding a relationship among seemingly unrelated events).

Counselor and instructor interview
Valid Washington State driver's license
Insurable (good driving record) to employer requirements
Criminal background check should be clear for the time specified by employer's application
Ability to pass entry and periodic drug testing as required by employers
---
Course Information
Course #
Course Title
Crs
COL 101
College Success
2
JSTI 109
Safety, Tool and Equipment Certification
3
JSTI 168
Trades Math I
3
JSTI 175
Communication for Trades
2
JSTI 180
Human Relations for Trades
2
AMATH 174S
Industrial Math for Compactors
1
AMATH 175S
Industrial Math for Thermodynamics
2
MART 111
Industrial Direct Current (DC)
2
MART 112
Industrial Alternating Current (AC)
4
MART 120
Industrial Solid State Electronics - Basics
3
MART 123
Diagnostic Techniques & Test Equipment
5
MART 125
Electric Motors
6
MART 141
Waste Disposers and Compactors
3
MART 143A
Dishwashers I
6
MART 143B

Dishwashers II

11
MART 181
Industrial Business Procedures
2
MART 203
Laundry Theory
3
MART 204A
Automatic Washers I
10

MART

204B
Automatic Washers II
10
MART 206
Gas Control Systems
2
MART 217
Clothes Dryers
6
MART 218
Stack Laundry Equipment
3
MART 222A

Cooking

Equipment I

4
MART 222B
Cooking Equipment II
10
MART 224
Microwave Ovens
4
MART 226
Principles of Thermodynamics
6
MART 228
EPA Regulations and Refrigerant Recovery
3
MART 230
Brazing Principles and Techniques
4
MART 232
Refrigeration Evacuation and Charging
2
MART 234A
Domestic Refrigeration Servicing
6
MART 234B

Domestic Refrigeration Servicing (Built In)

6
MART 235
Window Air and Wall AC/HP Servicing
4
MART 243
Icemaker Equipment
2
JSTI 194
Cooperative/Internship Work Experience (optional)
(5)
Total
142
General Education Course Requirements for AAS Degree
| | | |
| --- | --- | --- |
| Course # | Course Title | Crs |
| AMATH 175 | Applied Mathematics for Business and Industry or | |
| AMATH 185 | Applied Algebra for Business and Industry | 5 |
| COMP 100 | Applied Composition or | |
| ENGL& 101 | English Composition | 5 |
| PSYC& 100 | General Psychology | 5 |
| CMST& 101 | Introduction to Communications | 5 |
| | Total | 20 |
---
Program Outcomes
Program Outcomes for Major Appliance and Refrigeration Technology programs:
Practice industry safety standards for the installation and operation of all major appliance products
Select and properly use appropriate instruments, tools, and equipment
Utilize technology to access service and parts information
Demonstrate leadership, motivation, and problem solving skills in diverse and complex work situations
Communicate effectively in writing and verbally with customers, co-workers and supervisors
Diagnose and repair malfunctions on major appliance, home, residential and commercial refrigeration products
---
Accreditation
External accreditation is not applicable to this program.