MA - Phlebotomy Technician
Phlebotomists are the specialists who draw blood from patients for testing, transfusions and other medical or research procedures. The Phlebotomy Technician program prepares students to work in medical offices, clinics, labs and other health care settings. Students will study the history of the field, law and ethical issues and the clinical settings where they will work. They will cover areas such as basic anatomy and physiology, medical terminology and infection control and prevention. Students will also study and practice skills such as blood drawing techniques, special collections, how to prepare or process specimens, and how to follow OSHA safety standards. The program includes participation in a national certification exam.
---
Enrollment Point: Quarterly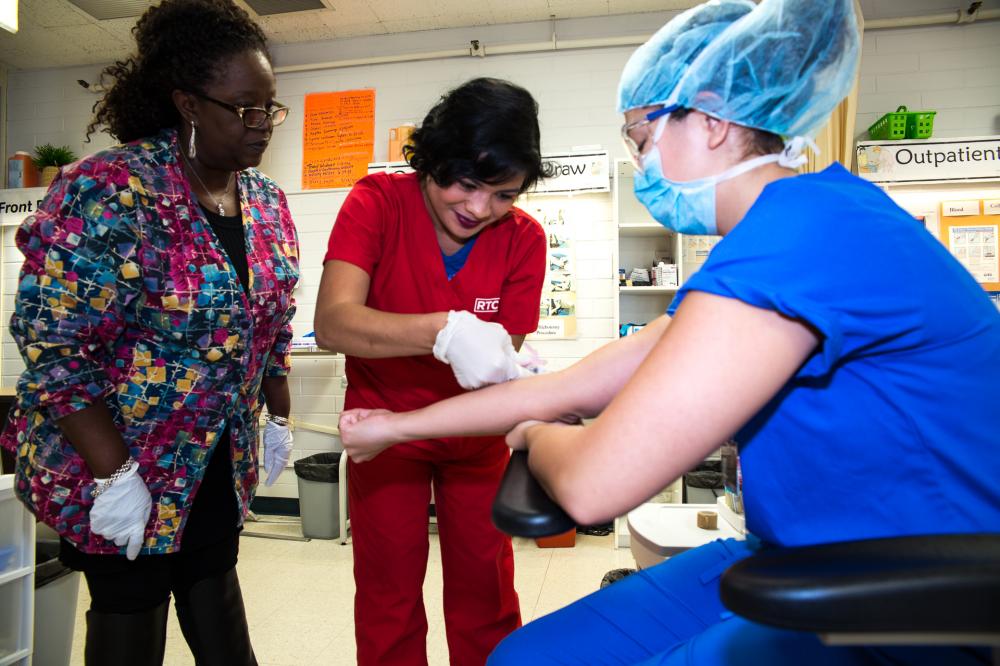 ---
Certificate of Completion:
Associate of Applied Science:
Bachelor of Applied Science:
---
All program lengths are estimates and are not guarantees. For the most current program information, check with an adviser by calling (425) 235-5840.
---
---
These amounts are based on median entry level wages, they are estimates and are not guarantees. For more information, visit careerinfo.net
---
At Renton Technical College, tuition is affordable and competitive.
Federal aid is available for most students to help pay for school. Fill out your FAFSA now to get started.
The RTC Foundation offers scholarships to help pay the costs of attending school.
---
All costs are estimates and are not guarantees. For the most current program information, check with an adviser by calling (425) 235-5840.
---
Monday through Friday, 8 a.m. to 2:30 p.m., clinical 8 a.m. - 5 p.m.
Evening Hybrid Course, T,W,TH (face to face) 4:30 p.m. - 9:30 p.m.
---
Hours may vary based on specific program requirements. For the most current program information, check with an adviser by calling (425) 235-5840.
---
Entry Requirements
Entry Requirements
High school diploma or GED
Communication involving patient care in the clinical setting is critical to patient safety. All students shall be fluent in the English language, including verbal and written language.
Students must register with Castle Branch and complete the following:

Complete and pass a Nationwide criminal background check (Crimes against persons list) within 3 months prior to admission into the program at http://portal.castlebranch.com/rr63 (use package code Rr71).
Meet immunization and program specific health requirements in compliance with the Centers for Disease Control Healthcare Provider immunization guidelines, including the submission of original lab results, x-ray reports and immunization records which are dated and signed by a healthcare provider. Immunization timeline table. **Special Note: All immunization and compliance documentation should be uploaded to CastleBranch.com prior to the beginning of the program. This is required to participate in the clinical portion of the program. Hepatitis B requires seven months to complete the series of three injections and must be followed with a blood titer one month after dose #3 to check for the presence of antibodies. Failure to comply with the Hepatitis B requirements will prohibit students from participation in the program!

Health insurance, both injury and sickness is required for participation in the program
Current (within one year) evaluation by a physician or healthcare provider to ensure student and patient safety. The evaluation should address the following areas in respect to the student's ability to perform the laboratory skills and clinical responsibilities related to becoming a Phlebotomy Technician:

Ability to stand or walk for long periods.
Admission Recommendations
Medical Terminology course
---
Course Information
| | | |
| --- | --- | --- |
| Course # | Course Title | Crs |
| PHLEB 101 | Fundamentals of Phlebotomy | 6 |
| PHLEB 102 | Phlebotomy Laboratory Skills | 5 |
| PHLEB 103 | Healthcare Provider First Aid/CPR and AED and Bloodborne Pathogens | 2 |
| PHLEB 104 | Certification Exam Preparation | 1 |
| PHLEB 191 | Phlebotomy Technician Practicum | 3 |
| | Total | 17 |
---
Program Outcomes
Learning Outcomes for Medical Assistant - Phlebotomy Program:
Practice within ethical and legal standards;
Practice professional behaviors of collaboration, advocacy and documentation, plus evaluation of own practices;
Apply critical thinking through all components of blood drawing;
Provide care with compassion and empathy;
Demonstrate the use of aseptic techniques when performing safe and accurate punctures;
Demonstrate effective communication with a diverse population.
---
Accreditation
External accreditation is not applicable to this program.