Santhoshima Karthikeyan (Shima for short) is a bundle of energy and optimism. Her smile is contagious, encouraging you to pay close attention to her fast, breathless talk.
You wouldn't know from first meeting her that she is made great sacrifices in her pursuit of a successful life thousands of miles from her home of Tuticorin, on the shores of the Bay of Bengal in India.
Chief among those sacrifices was leaving her daughter (age 2) and her husband behind, so that she could study a new profession and earn the visas to eventually reunite with them in Redmond, her adopted new home.
Shima also left behind a thriving medical practice as a trained doctor of Ayurvedic medicine, a 3,000-year-old medical tradition from India.
For the past year, Shima has pursued her dreams of success at Renton Technical College, as a student in the Massage Therapy Program and as a tutor in the RTC Learning Resource Center. She graduated from the program in June and is currently pursuing her associate degree.
She hopes to use that credential to eventually find work as a teacher, at RTC if she can. In the long term, she hopes to apply her training in traditional medicine to pursue a master's degree in naturopathy.
Shima first arrived in Washington planning to enroll in a program at Lake Washington Institute of Technology, which had sponsored her student visa. She looked at Washington over other states because her husband's father and three sisters already lived in Redmond and could provide community and support. But when she arrived here, she found the program had been cancelled for lack of enrollments.
She didn't give up at that point. Her brother and sister in law in Redmond suggested she look at the RTC Allied Health programs. With the help of counselors, she was able to get the student visa she needed, and enrolled in the Massage Therapy Program.
"My adviser brought all the good things for me," she said. "RTC has taken good care of me."
Shima commutes seven hours each day, taking four buses to and from her home in Redmond. After classes, she works as a student tutor, earning a little income and a lot of experience. It's hard work that does not leave her much free time.
To her, it is worth it, especially when she pictures a future as a teacher, with her daughter and husband by her side. This became especially clear at graduation in June, when she donned her cap and gown and was mentioned by name in RTC President Dr. Kevin McCarthy's speech for her achievements.
"You have to sacrifice something to achieve something else," she said. "With hard work and with the help of your family and community, your dreams can be fulfilled."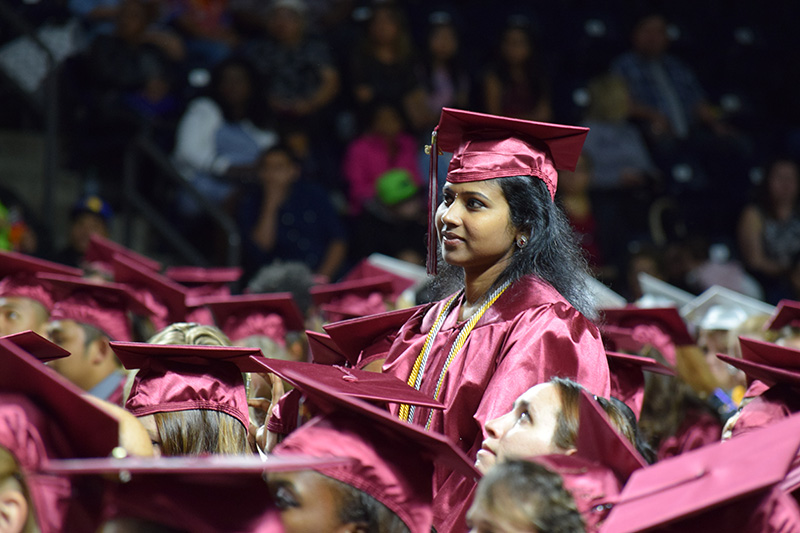 Santhoshima Karthikeyan