Data Dashboard Training
The IR Office has developed an online version of our data dashboard training. The course is available here in Canvas: Dashboard Training Course
How it works:
Step 1: Take the online training course at your own pace, anytime you want!
Step 2: Take the quiz (the link is available at the end of the training).
Step 3: If you passed the quiz, the IR Office will send you a user agreement form to sign. If you do not pass, you can take the quiz again until you do.
Step 4: The IR Office will grant you access to the restricted use dashboards on SharePoint once the signed form is received.
With dashboard access, you can find:
Course success rates by instructor;
Annual enrollment demographics for RTC;
Total completions;
Retention and completion rates for career training programs;
Job placement and wage data;
Basic Studies' transition data, and more!
---
Data Summits
Renton Technical College Data Summits are an open opportunity for faculty, staff, and students to learn how to use and interpret data. The interactive session includes group participation, analysis, and discussion of a sample case study.
---
Data 101
The first Data Summit was held October 26, 2015 from 2-4pm in C-111. It was a great opportunity for all faculty and staff to learn about data processes at RTC. Data 101 introduced you to various topics concerning data, including:
Where to find data
Data definitions
Requesting data and utilizing the data dictionary
The enrollment load count report
Tableau dashboards
The evaluation and survey process
Presentation Documents: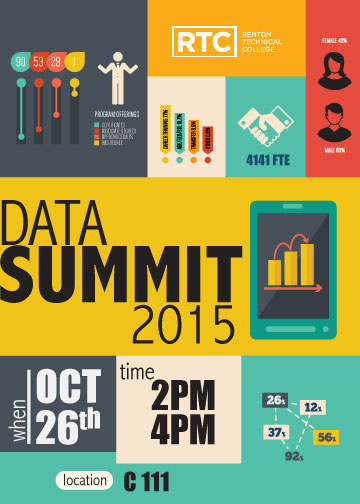 ---
Data 102
The second Data Summit was held March 9, 2016 from 2-4pm in C-111. This interactive session included group participation, and analysis and discussion of a sample case study. Learning outcomes for Data 102 include:
Understand the data request process and where to start.
Learn how to identify the necessary data points needed.
Understand different variables/factors to consider when interpreting data.
Have a basic understanding of how to use data to drive change.
Presentation documents;