SUSAN PALMER, BOARD CHAIR
Appointed to the Renton Technical College Board of Trustees in October, 2011.
Career Profile
Susan works for the International Association of Machinists and Aerospace Workers, District Lodge 751 in Seattle, WA. Originally hired by Boeing in 1986 she soon became an active member of her union and after serving as a union steward as well as holding several positions within her local lodge, she was elected to serve as a full time Business Representative in 1996. In 2006 she was elected to and currently serves as the District Secretary-Treasurer.
Education Profile
Attended Bellevue Community College, Business Management.
Community Involvement
I am an ardent supporter and fundraiser for Guide Dogs of America and have helped organize the "Flight for Sight" fun run at the Boeing Everett Activity Center for the past 10 years. I currently serve on the Board of the Puget Sound Labor Agency which helps union members and members of the community during hard times. For the last 9 years I have helped raise money and organized volunteers and walkers for the American Cancer Society's "Making Strides Against Breast Cancer" walk in Bellevue's Downtown Park. I have also served as a board member of the King County Airport Roundtable, Delegate to the King County Labor Council and as a Precinct Committee Officer.
Why are you a Renton Technical College Trustee?
"I've lived in Renton almost my entire life and I love it here. That's why I'm especially honored to have this opportunity to serve as a Trustee and give back to the community in a way that can have such a positive impact on people's lives. Businesses in our state need qualified workers so they can be competitive and successful. I'm proud to know RTC plays a big role in that and as a Trustee I'm going to do my best to help RTC give even more people opportunities to achieve their goals so that our community, state and economy will continue to grow and prosper for many years to come."
---

DEBRA ENTENMAN
Appointed to the Renton Technical College Board of Trustees in July, 2015.
Career Profile
Debra has more than three decades of community engagement and advocacy work. She has spent the past 10 years working for the office of Congressman Adam Smith, U.S. House of Representatives, and currently serves as the Deputy District Director. Her role keeps her actively involved in fostering constituent relationships, focusing on the education and healthcare sectors.
Education Profile
Received her Bachelor of Arts in Political Science from Seattle University.
Community Involvement
Debra has served as a board member for Neighborhood House since June, 2014, and is a member of the Urban League of Metropolitan Seattle.
Why are you a Renton Technical College Trustee?
"As a former non-traditional student, I understand the challenges of working and raising a family while attending school. I believe that Renton Technical College is a 21st century leader in higher education. RTC accepts students that span the educational spectrum, and work with them to fulfill their dreams of attaining higher education. At RTC, helping a student to reach their goals is important. I look forward to being part of making that happen."
---

TYLER PAGE
Appointed to the Renton Technical College Board of Trustees in June, 2009.
Career Profile
Employed for nineteen years by AllpakTrojan, a Renton company specializing in the manufacture of high-end printed packaging, displays and point-of-purchase systems, as a computer system administrator, programmer and data analyst.
Education Profile
Undergraduate studies at the University of Washington.
Community Involvement
King County Citizens Election Oversight Committee member, 2003 - 2005 Kent Food Bank volunteer Political volunteer and organizer in the Renton – Kent community
Why are you a Renton Technical College Trustee?
"Renton Technical College creates opportunity for thousands of students and makes a tremendous contribution to our regional economy. Our mission is to build on this success and help guide the College to future greatness. It is truly an honor to participate in this effort as a representative of the public."
---

FRIEDA TAKAMURA
Appointed to the Renton Technical College Board of Trustees in November, 2015.
Career Profile
My career focused on the public education system, first as a junior high school and high school teacher, and then as the Human/Civil Rights Program Coordinator at the Washington Education Association.
Education Profile
Frieda holds a Bachelor of Arts degree from Whitman College and a Master's in Education from the University of Washington.
Community Involvement
Frieda is involved with various community-based organizations, including the Wing Luke Asian Museum, the Puget Sounds Advocates for Retired Americans, and the Asian Pacific Directors Coalition, among others. She is a former commissioner on the Washington State Commission of Asian Pacific American Affairs, where she served as the Education Chair. Frieda is currently serving on the Washington Education Opportunity Gap Oversight and Accountability Committee.
Why are you a Renton Technical College Trustee?
Renton Technical College is a vital community resource that provides an alternative for those seeking further education and/or training, and whose needs are not necessarily met by a traditional four-year college. As the demography of South King County changes, so must our education institutions. They must continue to evolve to meet students' need as they strive to reach full potential. I believe I can contribute to helping RTC continue to do that.
---
KIRBY UNTI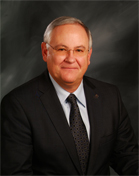 Appointed to the Renton Technical College Board of Trustees in December, 2009.
Career Profile
Bishop Unti serves the Northwest Washington Synod of Evangelical Church of America. Prior to being named Bishop in 2013, he served as the Pastor at St. Matthews Lutheran Church in the Renton Highlands for 33 years. Bishop Unti continues to reside in the Renton community.
Education Profile
Received his Bachelor of Arts in Speech and Communication from the University of Washington and his Master's Degree in Theology from Pacific Lutheran Theological Seminary in Berkeley, California.
Community Involvement
Renton Rotary – Past President Communities In Schools – Advisory Renton Magazine – Columnist Emergency Feeding Program – Host ARISE Men's Shelter – Host Compass Center Veterans Housing Renton – Community Advocate Renton Citizen of The Year 2007
Why are you a Renton Technical College Trustee?
"I believe RTC is a key to the economic engine of the Pacific Northwest in being able to provide a skilled work force. It amazes me that there is a place like RTC than can transform a person's life by moving them from a minimum wage to a living wage in short order. The world has come to our doorstep and the gathering place is RTC."