Where to Park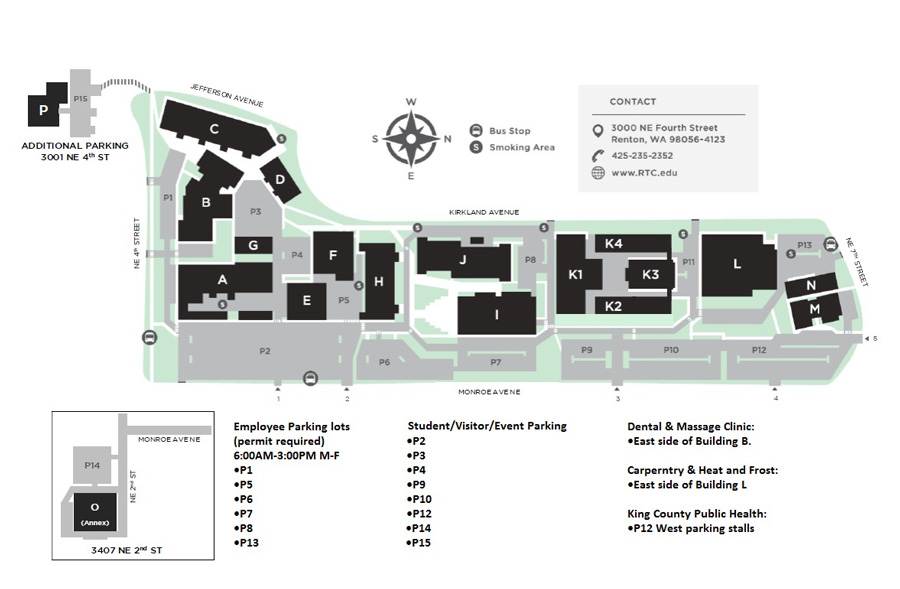 Additional parking is available at the following locations:
RTC utilizes virtual parking permits for students, register your vehicle and your license plate will then act as your parking permit in our database. Use the following link to access our Online Permit Registration.
You will need to know your CTC Link ID number, vehicle information including the year, make, model, color, and license plate prior to registering. If you are an employee, Register for a permit the same way using our Online Permit Registration. Employee vehicle permits can be picked up at the Security Office at building N-101 or will be distributed to the mailroom on campus at Building I.
Benefits of registering your vehicle:
If something happens to your vehicle, RTC Security can contact you as soon as possible
If you need a jump start or a vehicle unlock, we will be able to verify your vehicle information
If you leave your lights on, we will make an effort to notify you, saving your vehicle battery
---
Parking Rules & Permits
Parking rules and regulations are enforced 24 hours a day, seven days a week throughout the calendar year. RTC Staff parking permits are required to park in parking lots P1, P5, P6, P7, P8, and P13.
Students are not permitted to park in staff parking lots until after 3 p.m. Monday – Friday and all day on Saturdays. Visitors may park in any spot designated for visitors in time-limited parking and general student parking lots P2, P3, P4, P9, P10, and P12 without a visitor permit. Visitors may park in staff parking lots after 3 p.m. Monday – Friday and Saturdays all day.
Visitors may also park in staff parking lots Monday through Friday by obtaining a visitor parking permit from the department hosting them with the appropriate information about the event provided on the visitor permit.
Visitor permits must be displayed on clearly on the dashboard of the vehicle to be valid.
Students, register your vehicle for an online parking permit. Complete the Online Parking Permit Registration and your license plate will act as a virtual permit within our database.
Employees, register your vehicle online in order to receive a parking permit.
---
General Parking Rules
Unless cars are marked with a Disabled, Carpool, or Visitor Permit, students are required to park in the regular student parking lots on weekdays. On weekends, students may also park in any employee lot. Disclaimer: Information subject to change – please check entrance sign at lots for current restrictions.
Designated parking spaces have been outlined in our parking facilities with single white painted lines.
Vehicles should be centered with equal distance from your vehicle to bordering parking space lines.
Restricted parking areas include: roadways, fire lanes, bus zones, loading zones, service driveways, sidewalks, and landscaped areas.
Reserved parking is restricted to those with an appropriate permit or authorization.
In addition to imposing fines, vehicles may be impounded due to the following grounds but not limited to: blocking a roadway so as to impede the flow of traffic, blocking a fire hydrant or fire lane, creating a safety hazard, blocking another legally parked vehicle, parking in a marked "tow away" zone and outstanding unpaid parking citations.
---
LIABILITY OF THE COLLEGE
The college assumes no liability for vehicles parking or traveling on college property, nor shall it be held responsible for the loss of goods or property from vehicles parked on college property.
The college, the Campus Security department, its officers, or other employees or agents shall not be held liable for any damages, claims, or losses occurring to or from vehicles or equipment when rendering motorist assistance, impounding vehicles, or performing any duties as described in these rules and regulations. This section also applies to non vehicular modes of transportation.
The college provides only limited maintenance to college parking lots during periods of inclement weather. Persons using the college parking lots do so at their own risk. The college will not be responsible for any liability or damage claims arising from weather or other natural disaster-related causes or conditions.
---
Moving Violation Enforcement on Campus
Campus Security Officers patrol the campus (including Off Campus Locations) on foot, bicycles, and in patrol vehicles. Officers may contact RTC community members for violations of traffic laws, which are applicable on all campus properties. Enforcement action is a disciplinary referral to the Dean of Student Success.
Disciplinary referral is utilized to help increase pedestrian safety to the RTC community as a result of moving violations such as:
Speeding, negligent or reckless driving, failing to obey a traffic control device (stop sign), failing to yield to pedestrians, and all other traffic laws.
If an Officer contacts you for the above moving violations, failure to provide positive identification may result in further student disciplinary action.
---
Processing Citations
Individuals may receive a citation for parking without a permit, parking in an unauthorized area, blocking a roadway, speeding, etc. If a fine is not paid, the college may delay (a student's) registration, place a hold on transcripts or financial aid, impound the vehicle and/or reserve the right to pursue collections on any unpaid fines.
To appeal a citation, use this online form to provide the requested information to submit your appeal. You will be contacted via email and notified whether your appeal has been approved or denied.
---
Campus Security Fines and Fees Schedule
Parking over designated time limit (Visitor Parking): $15.00
Occupying more than one space: $15.00
Parked in an area not designated for parking: $15.00
Parked in Handicapped without a valid or expired placard or vehicle license: $75.00
Parked in an area not authorized: $15.00
Parked in a posted fire lane/no parking zone: $25.00
Blocking traffic or roadway: $25.00
Parking adjacent to a fire hydrant: $25.00
Parked in fire lane: $25.00
Any other violation(s) of college parking and traffic rules and regulations: $15.00
---