Andee Jorgensen Student Success Center
Each counselor has expertise in a special area or population and is assigned to a division of the college to provide communication between faculty/curriculum areas. Counselors work with and serve as a liaison with community agencies. Counselors are involved with recruiting at career fairs and high school visits, representing all program areas to provide general information about RTC.
In-Person Student Success Center Hours

Monday – Thursday: 9 a.m. – 5 p.m.
Friday: Closed to the public

General advising questions:
Full counselor contact info listed below including online appointment booking
RTC departmental directory: Contact Information page
If you'd like to arrange a tour of the campus, please email outreach@RTC.edu or call 425-235-2352 ext. 5562.
ASK AN ADVISER!
---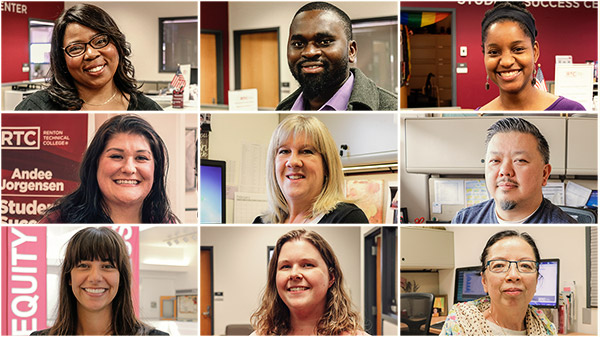 Chat LIVE with an adviser, visit the Zoom Lobby for a list of available times.
Sessions are offered via Zoom by clicking the link below. If you need one-on-one support regarding a private matter, email us at advising@rtc.edu or book an appointment by calling the Andee Jorgensen Student Success Center at 425-235-5840 or 425-235-5804.
---
Who's Who in Student Success
---
Staff Member
Department Assignment/Special Population
Contact Information
Anthony Covington
Dean of Student Success
Student Success Services
acovington@rtc.edu
(425) 235-2409
Office: I-229
Vacant
Executive Assistant
Student Success Services
(425) 235-5840
Office: I-218
Advising & Counseling Group
Bilal Abdallah
Academic/Career Counselor
Workforce Education

babdallah@rtc.edu
(425) 235-2352 x. 5856
Office: I-222

BFET/Worker Retraining:

Colleen Bassham
Academic/Career Counselor

Health & Human Services

cbassham@rtc.edu
(425) 235-2352 x. 5541
Office: I-224

Current Student Advising:

Vacant
Academic/Career Counselor
Business Management

Chelsea Good
Academic/Career Counselor
Running Start | Band Instrument | Culinary Arts

cgood@rtc.edu
(425) 235-2352 x. 5714
Office: I-226

Current Student Advising:

Running Start:

Sarah Hoaglin
Academic/Behavioral Health Counselor
Information Technology | Behavioral Health
shoaglin@rtc.edu
(425) 235-2352 x. 5850
Office: I-223

Laura Knight
Academic/Career Counselor

Transfer Education | IT BAS Programs

lknight@rtc.edu
(425) 235-2352 x. 2566
Office: I-219

Current Student Advising:

Faye Melton
Academic/Career Counselor
Workforce Education

fmelton@rtc.edu
(425) 235-2352 x. 5569
Office: I-220

BFET/Worker Retraining:

Eugene Shen
Academic/Career Counselor
Automotive | Trade & Industry

eshen@rtc.edu
(425) 235-2352 x. 5711
Office: I-224

Current Student Advising:

Outreach & Entry Services Group
Eva Juarez
Director of Outreach & Recruitment
Outreach & Recruitment
ejuarez@rtc.edu
(425) 235-2352 x. 5562
Office: J-218A
Kellie Luther
High School Program Outreach & Recruitment Manager
Outreach & Recruitment
kluther@rtc.edu
Office: J-218C
Gerald Bradford
Re-Entry Services Manager
Outreach & Entry Services

gbradford@rtc.edu
(425) 235-2352 x. 5733
Office: J-218D

Re-entry Services - DOC-Specific:

Vacant
Student Success Specialist
Outreach & Entry Services

New Student Advising:

Megan Phillips
Student Success Specialist

Outreach & Entry Services

mphillips@rtc.edu
(425) 235-6613
Office: I-227B

New Student Advising:

Linda Bui
Student Success Specialist Entry & Support

Enrollment Services

(425) 235-6550
Office: I-227A

Vahid Mehrin
Student Entry Specialist
Outreach & Entry Services
vmehrin@rtc.edu
(425) 235-2352 x. 5804
Office: I-218

Vacant
CCP Intake Navigator

College & Career Pathways

Text: (425) 528-1300
Call: (206) 880-1704
Office: I-219

Taqwo Mohamoud
CCP Intake Navigator

College & Career Pathways

tmohamoud@rtc.edu
Text: (425) 528-1300
Call: (206) 880-1704
Office: I-219

Educational Support Services Group
Wade Parrott III
Associate Dean of Student Engagement & Retention
Student Programs & Engagement
wparrott@rtc.edu
(425) 235-2352 x. 5805
Office: J-218B
Julie Darrah-Cappelli
Veterans Services & Agency Funding Manager
Veteran Services
veterans@rtc.edu
(425) 235-6570
Walter Lutsch
Director of Student Leadership & Program
Student Programs & Engagement
jlutsch@rtc.edu
(425) 235-6985
Department Assignment/Special Population
Bo Dong
Career Services Manager
Student Programs & Engagement
bdong@rtc.edu
(425) 235-2352 x. 5717
Office: C-102

Kathy Tessier
Opportunity Grant Manager

Financial Aid​

ktessier@rtc.edu
(425) 235-2352 x. 5720
Office: I-220
Jake Swanke

Director- Disability Resource Services

Disability Resource Services

jswanke@rtc.edu
425-235-6618
Office: I-205B

Disability Resource Services: