Andee Jorgensen Student Success Center
Each counselor has expertise in a special area or population and is assigned to a division of the college to provide communication between faculty/curriculum areas. Counselors work with and serve as a liaison with community agencies. Counselors are involved with recruiting at career fairs and high school visits, representing all program areas to provide general information about RTC.
If you'd like to arrange a tour of the campus, please call 425-235-2352 ext. 5562
ASK AN ADVISER!
---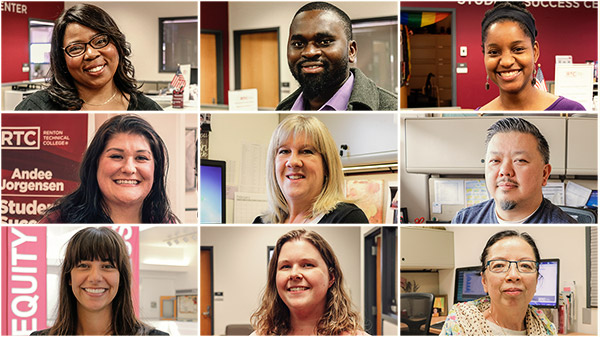 Chat LIVE with an adviser, visit the Zoom Lobby for a list of available times.
Sessions are offered via Zoom by clicking the link below. If you need one-on-one support regarding a private matter, email us at advising@rtc.edu or book an appointment by calling the Andee Jorgensen Student Success Center at 425-235-5840 or 425-235-5804.
Start Here
---
Who's Who in Student Success
---
Staff Member
Department Assignment/Special Population
Contact Information
Anthony Covington
Dean of Student Success
Student Success Services
acovington@rtc.edu
(425) 235-2409
Office: I-229
Vacant
Executive Assistant
Student Success Services
(425) 235-5840
Office: I-218
Advising & Counseling Group
Bilal Abdallah
Academic/Career Counselor
Workforce Education

babdallah@rtc.edu
(425) 235-2352 x. 5856
Office: I-222

BFET/Worker Retraining:

Colleen Bassham
Academic/Career Counselor

Health & Human Services

cbassham@rtc.edu
(425) 235-2352 x. 5541
Office: I-224

Current Student Advising:

Chelsea Paulsen
Academic/Career Counselor
Business Management

cpaulsen@rtc.edu
(425) 235-2352 x. 2165
Office: I-224

Current Student Advising:

Chelsea Good
Academic/Career Counselor
Running Start | Band Instrument | Culinary Arts

cgood@rtc.edu
(425) 235-2352 x. 5714
Office: I-226

Current Student Advising:

Running Start:

Sarah Hoaglin
Academic/Behavioral Health Counselor
Information Technology | Behavioral Health
shoaglin@rtc.edu
(425) 235-2352 x. 5850
Office: I-223

Laura Knight
Academic/Career Counselor

Transfer Education | IT BAS Programs

lknight@rtc.edu
(425) 235-2352 x. 2566
Office: I-219

Current Student Advising:

Faye Melton
Academic/Career Counselor
Workforce Education

fmelton@rtc.edu
(425) 235-2352 x. 5569
Office: I-220

BFET/Worker Retraining:

Eugene Shen
Academic/Career Counselor
Automotive | Trade & Industry

eshen@rtc.edu
(425) 235-2352 x. 5711
Office: I-224

Current Student Advising:

Outreach & Entry Services Group
Abigail Bae
Director of Outreach & Recruitment
Outreach & Recruitment
abae@rtc.edu
(425) 235-2352 x. 5562
Office: I-221
Gerald Bradford
Re-Entry Services Manager
Outreach & Entry Services

gbradford@rtc.edu
(425) 235-2352 x. 5733
Office: J-218D

Re-entry Services - DOC-Specific:

Vacant
Student Success Specialist
Outreach & Entry Services

(425) 235-2352 x. 5543
Office: I-227B

New Student Advising:

Megan Phillips
Student Success Specialist

Outreach & Entry Services

mphillips@rtc.edu
(425) 235-2352 x. 5819
Office: I-227B

New Student Advising:

Shanteal Valteau
Student Success Specialist Entry & Support

Enrollment Services

svalteau@rtc.edu
(425) 235-2352 x. 5576
Office: I-227A
Vahid Mehrin
Student Entry Specialist
Outreach & Entry Services
vmehrin@rtc.edu
(425) 235-2352 x. 5804
Office: I-218
Samantha Nelson
Student Success Specialist
Outreach & Entry Services
Special Population: CCP Retention

snelson@rtc.edu
(425) 235-2352 x. 2340
Office: I-228
CCP Next Step Advising Appointment

Debbie Tully
CCP Intake Navigator

College & Career Pathways

dtully@rtc.edu
Text: (425) 528-1300
Call: (206) 880-1704
Office: I-219

Taqwo Mohamoud
CCP Intake Navigator

College & Career Pathways

tmohamoud@rtc.edu
Text: (425) 528-1300
Call: (206) 880-1704
Office: I-219

Educational Support Services Group
Wade Parrott III
Associate Dean of Student Engagement & Retention
Student Programs & Engagement
wparrott@rtc.edu
(425) 235-2352 x. 5805
Office: J-218B
Vacant
Veterans Specialist, Financial Aid
Veteran Services
(425) 235-2352 x. 5738
Vacant
Student Leadership Program Manager
Student Programs & Engagement
Department Assignment/Special Population
Bo Dong
Career Services Manager
Student Programs & Engagement
bdong@rtc.edu
(425) 235-2352 x. 5717
Office: C-102

Kathy Tessier
Opportunity Grant Manager

Financial Aid​

ktessier@rtc.edu
(425) 235-2352 x. 5720
Office: I-220
Jake Swanke

Director- Disability Resource Services

Disability Resource Services

jswanke@rtc.edu
425 235 2352 x5540
Office: I-205B

Disability Resource Services: